The Chamber Forms an Inclusion Council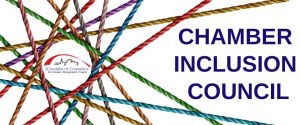 The Chamber of Commerce for Greater Montgomery County is taking action to make a difference through the formation of its first Inclusion Council.  The Council is comprised of members of the business community with diverse backgrounds including race, ethnicity, gender and ability.  The first meeting was held recently to discuss strategies to promote an inclusive chamber where all businesses feel valued and supported.  Its tagline, "Diversity Doesn't Divide Us It Brings Us Together," underscores its mission.  "We understand the work is ongoing and it is a process, but our goal is to have a chamber that reflects our society," said Vernessa Hopkins of H3 Business Services and co-chair of the Inclusion Council.
The Council will be working closely with Donna Richemond, Chief of Diversity, Equity, and Inclusion of Montgomery County Commissioners Office, to explore outreach opportunities to connect with and understand the needs of our diverse business communities.
The work has already started with the Chamber's involvement with the International Spring Festival (ISF) and the Chamber's Annual Cultural Celebration.  Dr. Francis Jeyaraj, one of ISF founders and a member of the Inclusion Council, has been invaluable with his contribution to our community and the Council.  The ISF brings awareness to various cultures in our community. In its 33rd year, the festival will be held on April 15 from 11 am – 5 pm at the North Penn High School.  The Chamber has supported the festival in previous years but with a concerted effort this year, the Inclusion Council will use the event to educate the attendees on the value of the chamber.
The Council in partnership with ISF is working on a Unity Poster of Congratulations to our new Governor. A 20 foot poster will be created and displayed at the festival for all attendees to sign a congratulations message in their native language, showcasing the diversity of languages in our community.  After the festival, the poster will be presented to Governor Josh Shapiro in Harrisburg.
For its second year, the Chamber's Cultural Celebration took place on February 23, which was a networking event as well as a celebration of its multicultural members highlighted by a food tasting of ethic food.  Chamber members showcased their culinary skills by preparing dishes representing their heritage.  Countries that were represented included Greece, Haiti, India, Ireland, Native American, Pakistan and Ukraine. George Whitehair, Executive Director, Boston Legacy Foundation & Publicity Chair, International Spring Festival and Shane Wheeler, CEO, Volunteer Medical Corp spoke about "Celebrating Our Cultural Difference While Focusing on the Importance of Being Able to Work Together."