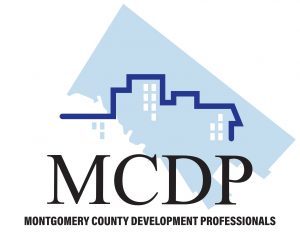 Montgomery County Development Professionals (MCDP) is a group administered by The Chamber of Commerce for Greater Montgomery County and open exclusively to Commercial Real Estate (CRE) professionals involved in the front end development of commercial property. With over 100 years in serving the local business community with programs, events and advocacy initiatives, The Chamber is uniquely positioned to facilitate a climate for networking and business development opportunities for CRE professionals.  Commercial Realtors, Developers, Bankers, Engineers, Title Agents, Real Estate Attorneys are just a few of the many professions eligible for membership within MCDP.
MCDP is dedicated to the success of CRE professionals across Montgomery County by helping develop relationships with other members to  put their company in a position for growth and expansion.
The MCDP Advisory Committee is charged with setting the guidelines for participation as well as program development.
Larry Burns, Horsham Township
Ted Hozza, Situs Properties Inc.
Scott Little, Harleysville Bank
David McNerney, Bogia Engineering Inc.
Dan Wallace, Arrow Real Estate Services