Alliance of Women in Business

The Alliance of Women in Business is a group of The Chamber created to provide a forum for women business owners to get together for networking, professional and personal development, as well as to foster support and connection through monthly meetings. It is not a traditional networking group in that it is designed to promote collaboration, brainstorming and sharing of business knowledge and experiences.  Doing business with members will be highly encouraged.
The Alliance offers: 
Regular meetings at 9:00 am on the second Tuesday monthly at the Chamber office at 325 Madison Street, Suite E1004, Lansdale, PA
The opportunity to gather with women who share common challenges, issues, concerns and aspirations
A forum to connect and collaborate
A no cost alternative to the national women's networking organizations
Is the Alliance right for you?
You are a member of the Chamber of Commerce for Greater Montgomery County
You will plan to attend at least 50% of the events (meetings/socials) held annually, understanding that active participation is the best way to benefit from the group.
You are looking to learn, share and collaborate with other women business leaders
Co-Chairs: Lei Barry, The Lei Barry Team at Keller Williams Real Estate; Cathy Carroll, Payroll Vault - Main Line; Jean Wider, Harleysville Bank.
For more information, contact The Chamber at 215-362-9200 or info@chambergmc.org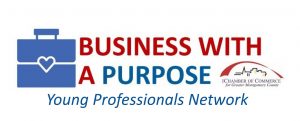 The BWAP committee is open to young professionals 45 years and under who demonstrate a drive to connect community and commerce. All Chamber members are welcome to join the volunteer network by donating their services pro bono, and volunteering on projects and organizational needs of nonprofits. With over 40 nonprofit members, it is a superlative opportunity to support a diverse representation of organizations that serve numerous members of the community.