There are several ways you can continue to support local businesses at a time when many have had to close their doors, have less staff on hand or are limiting their operations.
Like, Share and Comment - Through the power of social media, you can stay connected to local businesses. When you like, share and comment,  their posts have the ability to reach new customers who were not previously familiar with their business. Being seen by new people will help once they are back open.
Spread the Word - Many businesses are setting up online options such as live-streaming classes, webinars and delivery/pick up services.  Sharing these programs and offers on Instagram, Facebook and other social media sites will help our community stay engaged.
Buy a Gift Card - Purchase a gift card today to use later.  This will help businesses with some much needed cash flow to support themselves while their doors are closed. Many businesses allow you to purchase and receive gift cards virtually so you can shop from the safety of your home.
Use Delivery or Pickup Options - Treat yourself and your family to one of our many area restaurants through pickup or delivery service.  This gives you the option to either get out of the house for a few minutes or have something special delivered. View list of Chamber members with offers.
Leave a Review - Google your favorite business and write a review.  A Google review gives a business a credibility boost without having to spend money on advertising.
Shop Online - Many of the small businesses in our community have the ability for customers to order online.  This includes ordering from restaurants, pre-ordering products for pick up late or ordering gift cards.
NONPROFIT ORGANIZATIONS IN NEED OF YOUR HELP
Many of our community nonprofits are being hit very hard. Events and fundraisers have been canceled and operating revenue has come to almost a complete stop. This is all while our neighbors are most in need of the services provided by these organizations.
Several of our members have offered a narrative of their situation with a request for your support.
Please help if you can.
FOOD & BEVERAGE PICK-UP AND DELIVERY SERVICES
Spend a little - Help a lot!
Small businesses, restaurants and nonprofits are being hit very hard as a result of this pandemic. As a community we can help to make a difference! If you buy a gift card to a business of your choice, you provide them with revenue to help cover their operation expenses.
The Chamber is furthering this impact by matching the amount of gift card purchases made up to $2500 and will be donating those cards to area nonprofits. Together we can inject $5000 to our local economy.  Program Details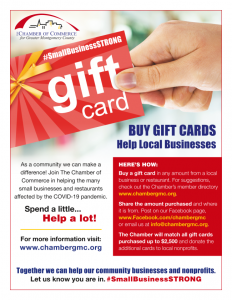 Christian Brothers Automotive, Montgomery Mall, is offering Pick-up/Drop-off and Grocery Services. They will purchase your grocery items while your car is in for service with no surcharge. No-contact drop box also available.  Revised Operating Hours:  Monday- Friday 8:00 am – 5:00 pm and Saturday 8:00 am -12:00 pm.
Gwynedd Valley Eyecare is open to provide emergency eye care. This includes ordering contacts or fixing/ordering glasses, as well as red eye care, foreign body removal, flashes of light and floating spots. They can provide their eye care in a much lower risk environment than going to the ER or Urgent Care.
North Penn Cleaning Solutions is deemed an "essential provider" in PA. They use CDC approved disinfectants and all cleaners wear CDC approved masks and gloves. All equipment is sanitized and cleaned before each job. Contact them to schedule a cleaning before you are open to the public and/or before your employees come back to work.
Park Dental of Colmar has the approval of the PA Department of Health to provide emergency and urgent care services.
Scent & Sip has hand sanitizers for purchase.  Buy 3 and get the 4th FREE! To go orders and pickup  available Saturday & Sunday from 12 – 5 pm.
Signs by Tomorrow can produce clear acrylic safety screens for you, your staff, your customers, and your family so that you can observe social distancing!