The Chamber of Commerce Hosts a Cultural Celebration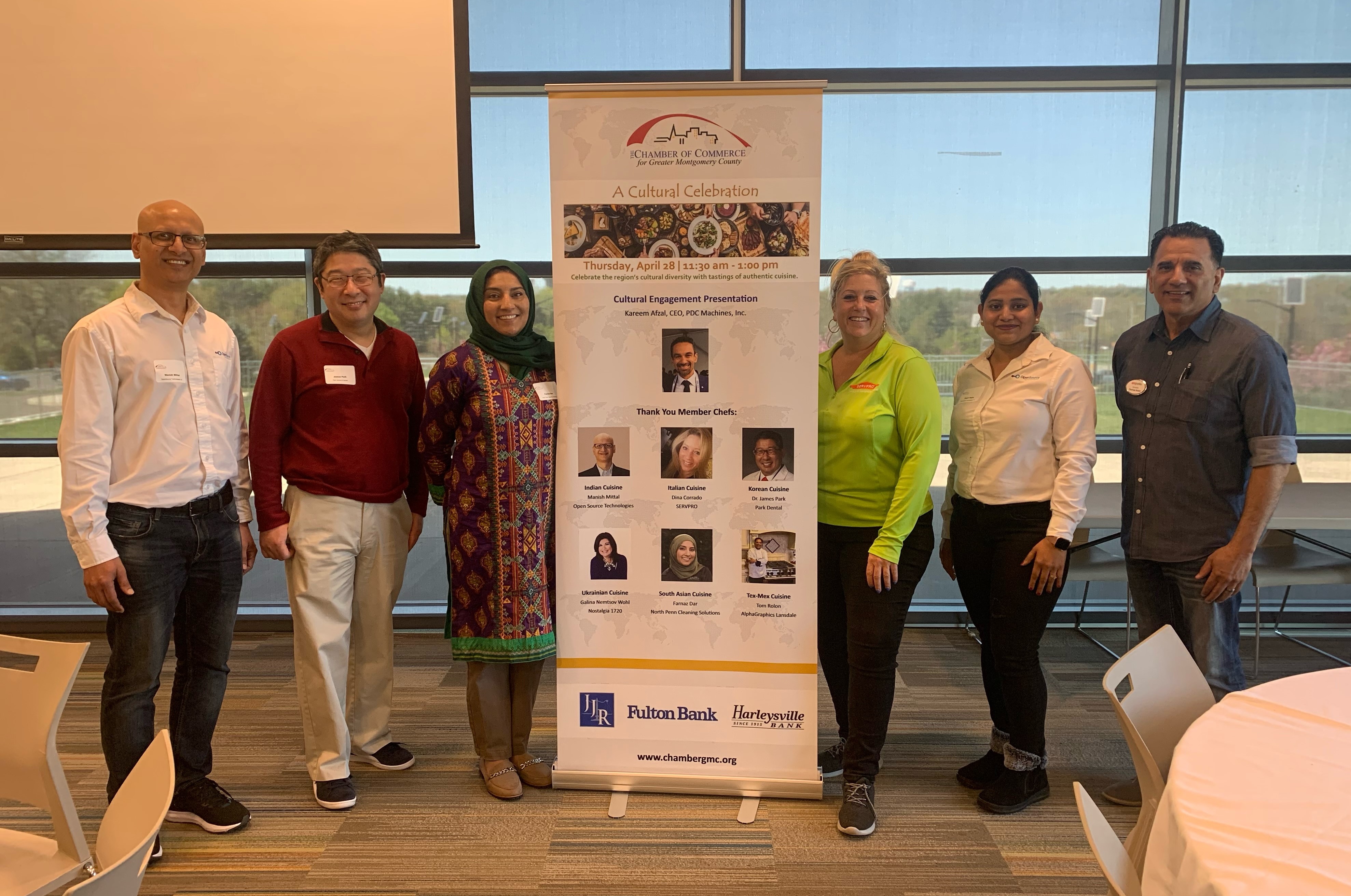 The Chamber of Commerce for Greater Montgomery County hosted A Cultural Celebration luncheon on April 28. The event took place at the Montgomery Township Community & Recreation Center in Montgomeryville, Pa.
Six amateur chefs cooked a variety of international dishes from their cultural heritage, in conjunction with a Cultural Engagement presentation by Kareem Afzal, CEO of PDC Machines.
The Cultural Celebration was created to recognize the diversity within the Chamber and the business community in Montgomery County. The six chefs are all Chamber members who own or operate local businesses.
Additionally, in support of those impacted by the war in Ukraine, all of the registration proceeds will be donated to the local Sisters of Saint Basil's Ukraine Relief Fund. A traditional Ukrainian dish, Piroshki, was created by Galina Nemtsov Wohl from Nostalgia 1720 to honor her heritage.
Doctor James Park from Park Dental created Japchae, a Korean staple. Dina Corrado from SERVPRO of Warminster | Lansdale | Blue Bell | Abington | Jenkintown | Philadelphia created Italian favorites, Penne Alla Vodka and Chicken Piccata. South Asian Tandoori chicken skewers were prepared by Farnaz Dar from North Penn Cleaning Solutions.
AlphaGraphic's Tom Rolon prepared Tex-Mex chili. Finishing off with dessert was Manish Mittal from Open Source Technologies, with his Gulab Jamun, a sweet Indian treat.
This event came less than a week after Lansdale's International Spring Festival, which also aims to celebrate cultural diversity in the community. With more than 35 different languages spoken in Montgomery County, there is always an opportunity to gain more knowledge about cultural diversity in the region.
Afzal, who is also a local business owner, highlighted the value of learning about different cultures within our own communities and abroad during his presentation. PDC's employees are composed of an ethnically diverse population of over 40 percent, and this has had a tremendously positive impact on their business.
Their company culture, diversity and inclusion metrics are among the highest rated categories of their business, which has led to a minimal yearly turnover rate of seven percent. A rate that is much lower than the national average of just over 20 percent.
PDC also hosts their own cultural celebration every year where their employees share their heritage through food and learn more about one another. "Cultural empathy has helped to retain employees," said Afzal.
Along with inclusion and understanding, there are three key ingredients that his father, the founder of PDC, lives by: hard work, discipline and authenticity.